Modern day technology
Fast forward to the present day modern, energy efficient home. If you want the temperature 70 degrees in your master bedroom at night, 73 degrees in the kid's rooms and 75 degrees in the rest of the house, you can do it! This is done with a zoning system, with virtually a thermostat in every room. So you have total control over where your hard earned energy dollars are going – just like you do with the water faucets and electrical light switches in your home.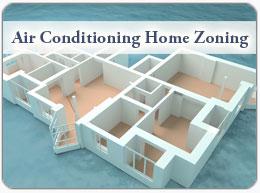 Advantages of Zoned Systems is it is much easier to keep everyone in the home comfortable, while cutting energy costs by being able to turn thermostats up or down as needed. Being able to control the temperature of each zone from a single unit replaces the need for separate units in a home. If zoning will not work a mini split system could be the answer. Closing AC outlets only creates problems, decrease unit life, and can cost you more money in operating cost. Progressive Hvac has years of experience in providing the best in service for your home comfort needs. These are some of the considerations that have to be accounted for before a zoned HVAC system can be installed.
There are a few disadvantages as well. Initial cost for a zoned HVAC system may be higher than a normal system installation. Ductwork may have to be changed or enlarged to allow greater air flow, and zoning from a single system is not possible in some homes or businesses, because there is not enough room for the larger ductwork. Technicians that install these systems have to be very knowledgeable and up to date on them, and not all technicians can install such a sophisticated system, let alone service it. One more drawback to a zoned HVAC system is the fact that not all HVAC systems can support them. This is why we recommend Bryant Preferred two stage air conditioning systems. It is best to have your current system inspected by a technician well-versed in these systems to determine if yours is the right one for zoned heating and air.
1. Home Zoning Experts
Zoned Air Conditioning is simple in concept but the installation needs to be performed by professionals to get the best results. We will plan the home zoning solution around your system, lifestyle and home comfort needs. When all set up you'll be able to set the temperature to your comfort in different zones of the home, or have some areas cooled more than others.
2. Save Money
A zoned system can save you up to 25% on energy bills. It makes sense to have a system that cools only the areas that are occupied and not to waste money by cooling the whole house. You wouldn't keep every light on in your house, and home zoning works on the same principle.
3. Eliminate Hot Spots
With home zoning you can provide cooling to specific zones, especially two story homes, eliminating any hot spots a centralized system does not reach.
4. Written Warranties
All of Progressive Hvac installations are backed by a written warranty for your peace of mind.
5. Professional and Friendly
Progressive Hvac's team of expert technicians are professionally attired and will treat your home with the respect it deserves. We use work mats and shoe covers to keep work areas clean, and will tidy up when work is complete.
6. Free Estimates on New Home Zoning Systems
Contact Progressive Hvac for a free no obligation estimate on your new installation.
For information and advice on choosing a zoning system that is right for your home call us,To schedule a service call contact us at (858)380-9277